Published on 02.10.2023
Business, Tech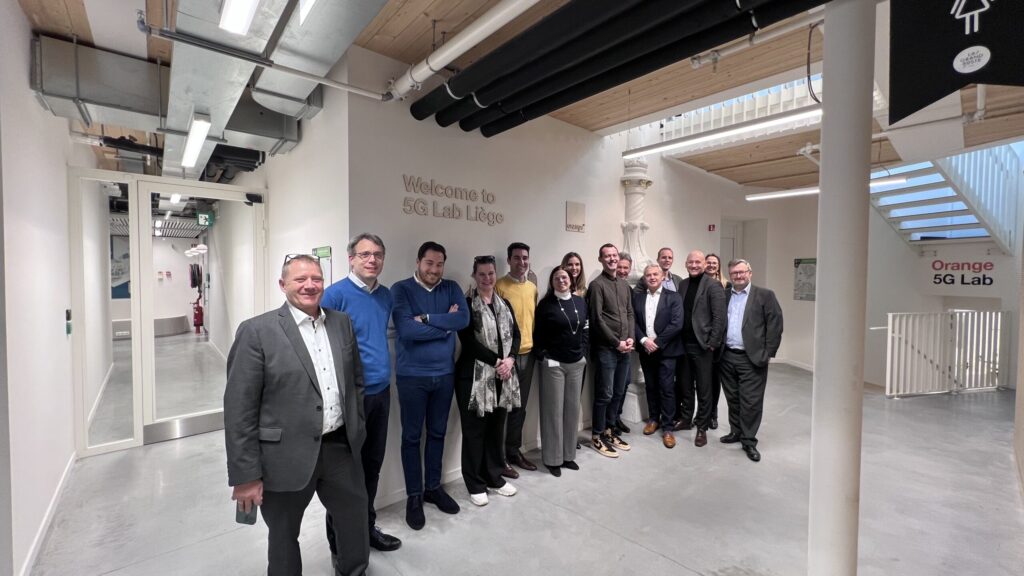 Visits to Telecom Labs provide valuable insight into innovation usage
Scroll
Published on 02.10.2023
Business, Tech
In the first half of 2023 teams from MyConnectivity paid visits to telecoms labs of Orange in Liège and Vodafone in Düsseldorf to learn about the latest innovations and what technology prototypes are being tested.
Scroll
As MyConnectivity seeks to understand the telecoms lab ecosystem in Europe, and particularly in the countries around Luxembourg, visits to Vodafone's innovation park in Düsseldorf and Orange's 5G Lab in Liège have already proven invaluable.
In Germany, Vodafone's approach is very customer-focused and includes on-site product prototyping and proof of concept capabilities. The innovation park even has its own data centre.
Mobility uses of 5G
Vodafone also has interesting demonstration models that it takes to exhibitions to showcase different uses of 5G. For example, a robot that will duplicate, in real time, using pen and paper, the strokes a user makes on a digital tablet using a stylus.
Vodafone also has a state-of-the-art Mobility Lab in Alendhoven, between Aachen and Cologne, consisting of an automobile circuit that is made available to car manufacturers to conduct performance tests using Vodafone connectivity.
The Düsseldorf innovation park is in regular contact with Tomorrow Street, the innovation centre in the grand duchy that accelerates leading-edge technology through scaling late-stage start-ups and is a joint venture between Vodafone Group and Technoport, Luxembourg's national technology incubator.
Smart-port advantages
The Orange 5GLab in Liège is located in the newly developed creative quarter of Liège, which opened its doors in September 2021.  Rather than a prototyping lab, it is more of a showcase centre for the demonstration of use cases for clients.
Orange is using 5G to work with the port of Antwerp, where it has established another lab. According to International Maritime Organization research, three-quarters of port operators believe automation is critical to maintaining competitiveness. In Antwerp's smart-port, for example, Orange's 5G connected tugboats that could stream real-time video and other data to the port's central control room. This enabled the port to increase the throughput of ships each day. Elsewhere, a chemical company leveraged the 5G network to use augmented reality (AR) solutions around its site for safer machine inspections.
The Orange lab in Liège also demonstrates how augmented reality is going to be used more and more in homes in the future, particularly for sports and entertainment apps. For example, viewers will be able to watch a broadcast of a football game using special glasses, powered by 5G that display live stats about the match and player metrics.